[ Join Free! ]
(No Spam mail)


<<

|

>>
Submission Name: untitled & disgusting.

--------------------------------------------------------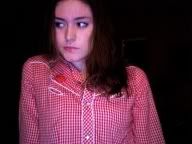 | | |
| --- | --- |
| Author: | taramarie |
| Elite Ratio: | 2.26 - 54/107/61 |
| Words: | 242 |

| | |
| --- | --- |
| Class/Type: | Random Thoughts/Misc |
| Total Views: | 1108 |
| Average Vote: | No vote yet. |
| Bytes: | 1486 |
Description:
this is disgusting.
untitled & disgusting.

-------------------------------------------




heart attack all over your sleepy face.
cover you with strawberry children
and hope you don't cut your fingers off with
the petals of angles and horse teeth are falling
out of your ears.
you gutted the pillows and now
i have nothing to hide all my secrets in. fucker.
we climbed in the bathtub
and cut out pictures of our favourite celeb-prettys.
we watched shooting stars shoot up the atmosphere.
nothing felt as good.
nothing felt as...
i got into a fist fight with the monsters
that hide in the glitter gutters.
when i broke his nose cocaine dripped out.
he broke my ribs apart and stuck them in a cake.
i made more birthday wishes. & blew it all out.
you fall in love with the rhinestone girls that
have sharp bones and bangs falling into their eyes.
we have sex on the greased streets behind all
people who really fell in love.
you carve your psalms into my back
with the bones from a vulture you pulled from the jaws of your father.
i suck off the salt from you lips
and hope infection doesn't occur.
when we fall asleep
in our tin can ocean bottom honeymoon suit
you groan and pull at my limbs.
i wake up with your prints & teeth.
we shower in the hopes of pealing off
the people we became.
i'd kill to see that girl go down the drain.





Submitted on 2006-05-24 21:12:12 Terms of Service / Copyright Rules
Submissions: [ Previous ] [ Next ]
1: >_<
2: I dunno...
3: meh!
4: Pretty cool
5: Wow!


||| Comments |||


104657


Be kind, take a few minutes to review the hard work of others <3
It means a lot to them, as it does to you.
A Sonnet for Nina written by SavedDragon
Wavelength written by saartha
Hollow Points written by RequiemOfDreams
Skin of Fables written by ShadowParadox
Ten Poems written by Wolfwatching
new moon written by CrypticBard
In My Head written by faideddarkness
It's Night Now written by RisingSon
Bee Keeper written by endlessgame23
cleverly shunned written by CrypticBard
Munyonyo written by expiring_touch
Be Free written by hybridsongwrite
Date night written by expiring_touch
Summer Nights written by ollie_wicked
Bond written by saartha
Sunset written by rev.jpfadeproof
This written by Chelebel
Pain, an elixir. written by Ramneet
Transparent written by Daniel Barlow
To the King written by HisNameIsNoMore
The Promise written by annie0888
Incubus written by monad
I will call out your name written by RisingSon
untitled written by Chelebel
Deaf Dumb and Blind is no excuse written by poetotoe
Wasps written by Wolfwatching
Red Barn written by rev.jpfadeproof
Love Can Be... written by HAVENSMITH92
Treasure Chest written by PieceOfCake
One Thing written by Wolfwatching