[ Join Free! ]
(No Spam mail)


<<

|

>>
Submission Name: (To Death)

--------------------------------------------------------
| | |
| --- | --- |
| Author: | Emerging Soul |
| ASL Info: | 48/VERY female/Wisconsin |
| Elite Ratio: | 4.36 - 1240/1114/244 |
| Words: | 198 |

| | |
| --- | --- |
| Class/Type: | Poetry/Serious |
| Total Views: | 728 |
| Average Vote: | No vote yet. |
| Bytes: | 1280 |
Description:
I was inspired to write this by a poem by Liv2LovethePain...

For a couple of these lines to make sense, I guess I should explain that for years I was told by my husband, "You married ME, I didn't marry YOU...you're the one that took MY NAME"

And yes, it was abusive. He looks back now and apologizes and admits he was an ass and blames it on the fact that he was just a kid (18) when we married and he was immature. But hey...I was too...in fact, I was 17...so that excuse kinda never did fly with me...but anyway...

The entire idea of obssessive love is a sore spot with me because I have LIVED IT my entire life. It has taken a different form now-a-days. It isn't so much "you're mine but I'm not yours" as it is "You're my everything...I can't stand to be away from you even for one night...I can't eat, I can't sleep, all I can think about is YOU..." kind of love, which is just as creepy and confining...

*sigh*

(And, note to B...no, this isn't because something NEW happened...nothing is wrong...I'm just allowing memories to be stirred up...something I shouldn't do, but can't help sometimes, so don't worry about me, okay?)
(To Death)

-------------------------------------------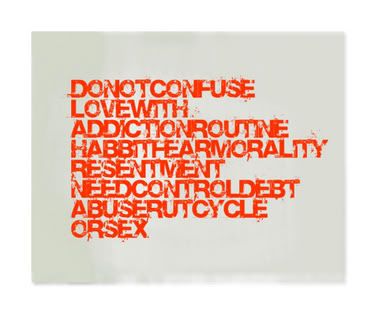 I remember the day
When you were pawing through the dresser-drawer
Searching for the gun
You tried to say (years later)
That you were gathering socks and underwear
To pack in a suitcase and leave
But I know better
You say you'd never hurt me
But you've threatened to, many times
Isn't that just as bad?

Maybe not.

I've always been yours
Too bad you weren't always mine
I took YOUR name when we married (you said)
And that made me your possession

When you found out that there was someone else
It (you) nearly killed me
And suddenly things changed
And you were also married to me

But devotion (this way) is just another form of obsession
And I wonder sometimes if it is real
Do you love the thought of being owned by love
Or do you love me?

If you say you can't live without me
Does that make you feel better about yourself?

If you say I can't live if I'm not with you...

Does that make you feel better about me?

But you would never hurt me (you say)

You love me (to death)





Submitted on 2006-08-26 11:06:46 Terms of Service / Copyright Rules
Submissions: [ Previous ] [ Next ]
1: >_<
2: I dunno...
3: meh!
4: Pretty cool
5: Wow!


||| Comments |||


115899


Be kind, take a few minutes to review the hard work of others <3
It means a lot to them, as it does to you.
Love Can Be... written by HAVENSMITH92
It's Night Now written by RisingSon
102.3 written by rev.jpfadeproof
untitled written by Chelebel
In the end written by Janesaddiction
The Promise written by annie0888
new moon written by CrypticBard
The Song on Your Guitar written by SavedDragon
Giving written by jjd
Devils in the Details written by endlessgame23
Song written by Daniel Barlow
Red Barn written by rev.jpfadeproof
Can't let my demons go written by faideddarkness
Fathoms of the Lullaby Sea written by HisNameIsNoMore
Date night written by expiring_touch
Deaf Dumb and Blind is no excuse written by poetotoe
When Crows Tick on Windows written by metallichick786
cleverly shunned written by CrypticBard
In My Head written by faideddarkness
4th Season of Vivaldi written by HisNameIsNoMore
ME written by jjd
It's been a while written by Sharati_hottie
Commencement written by Ramneet
To the King written by HisNameIsNoMore
A Sonnet for Nina written by SavedDragon
Cage written by distortedcloud
Transparent written by Daniel Barlow
Summer Nights written by ollie_wicked
Be Free written by hybridsongwrite
Pressure written by hybridsongwrite