[ Join Free! ]
(No Spam mail)


<<

|

>>
Submission Name: Green Grass Hill

--------------------------------------------------------
| | |
| --- | --- |
| Author: | KimmyMim |
| Elite Ratio: | 4.4 - 223/303/117 |
| Words: | 143 |

| | |
| --- | --- |
| Class/Type: | Poetry/Nostalgia |
| Total Views: | 1476 |
| Average Vote: | No vote yet. |
| Bytes: | 1063 |
Description:
With fondest memories of
Billy the Musician...
and Dennis the Artist...

Dedicated to Pam and Donny,
and Bonnie and Heidi,
and Carol (who I bit),
and Kathy (with her guitar),
and Jennifer (except for one toe),
and Jamie (with his sneakers)...
and smelly skunk cabbage...

"I found a picture of you..." (the Pretenders)...so it caused me to remember a still moment in time...

(No perfect thought to rhyme with the submission.)

In the late sixties, early seventies, when it was safe to "disappear" from your home for an entire summer day, some dear friends and I would spend time together at the end of Pine Street in our developing neighborhood. Previously, a construction crew had dug the topsoil from a plot of land and tuck-piled it enormously high in the corner, where it stayed for what seemed like eternity, growing over with plants and paths. It was on the edge of what came to be known to some of us as The Woods.

To the left was a toppled down tree blocking the main path. We affectionately called this, "The Log." It was here at the entrance where we would often meet to smoke butts (which were .50 a pack), and plan our days.
We name the paths behind it, as though they were streets.
And we'd play forever on the overgrown topsoil at Green Grass Hill.

Eventually..."they" built the house (and many more), and spread the topsoil as a front lawn for the new residents.
The Log...rotted.
And the developers pushed their way deep into The Woods.
Of course, over time, this eroded a portion of the innocence of our childhood.

So...to me, this writing is a priceless moment in my time...enjoy!
See you at The Log!

Green Grass Hill

-------------------------------------------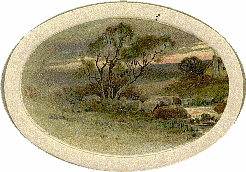 Just now a memory
caught my eye.
Looking long,
I gave a sigh.

Without a thought
I brought you near,
to see if I
could maybe hear,

your words again,
with whispers sweet,
like baby's breath
and angels feet.

I close my eyes
and we are there,
enjoying life,
without a care.

I brush my hand
across your face.
Inhale a breath
to smell that place,

where once we played
when time stood still,
and daisies grew
on Green Grass Hill.

I turn my gaze
back down to you
and everything
returns to view.

The paper smiles
in shades of black.
I'm looking down,
and smiling back.

An empty well...
My eyes stay dry.
(I can't believe
I didn't cry.)

I hang you up
and walk away.
My heart is where
you'll always stay.





Submitted on 2006-09-09 09:45:47 Terms of Service / Copyright Rules
Submissions: [ Previous ] [ Next ]
1: >_<
2: I dunno...
3: meh!
4: Pretty cool
5: Wow!


||| Comments |||


117392


Be kind, take a few minutes to review the hard work of others <3
It means a lot to them, as it does to you.
Pressure written by hybridsongwrite
Our Cinder Crisis written by SavedDragon
Fathoms of the Lullaby Sea written by HisNameIsNoMore
To written by SavedDragon
In My Head written by faideddarkness
Devils in the Details written by endlessgame23
A Sonnet for Nina written by SavedDragon
Pain, an elixir. written by Ramneet
May 31 2018 written by Chelebel
Incubus written by monad
Linger written by saartha
This written by Chelebel
4th Season of Vivaldi written by HisNameIsNoMore
Be Free written by hybridsongwrite
Skin of Fables written by ShadowParadox
Bond written by saartha
One Thing written by Wolfwatching
Ten Poems written by Wolfwatching
It's been a while written by Sharati_hottie
Once Again written by krs3332003
I will call out your name written by RisingSon
Transparent written by Daniel Barlow
Song written by Daniel Barlow
cleverly shunned written by CrypticBard
Trails written by Daniel Barlow
Sunset written by rev.jpfadeproof
Life changes in a moment written by Ramneet
The Promise written by annie0888
Wish written by Daniel Barlow
Treasure Chest written by PieceOfCake