[ Join Free! ]
(No Spam mail)


<<

|

>>
Submission Name: Come on let's love

--------------------------------------------------------
| | |
| --- | --- |
| Author: | Poetic_tragedy6 |
| ASL Info: | 25/F/OR |
| Elite Ratio: | 2.65 - 114/155/74 |
| Words: | 86 |

| | |
| --- | --- |
| Class/Type: | Poetry/Love |
| Total Views: | 655 |
| Average Vote: | 4.0000 |
| Bytes: | 629 |
Description:
A little love poem... not my best.
Come on let's love

-------------------------------------------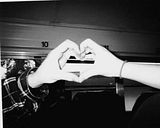 Let's waste time
Just you and me
So we can be lost
For all eternity

Let's sing a stupid song
To remind eachother
Where we belong
We belong to one another

Let's kiss in the rain
So I know your here
All our problems will slip away
Hold me so dear

Let's fall in love
and learn from our mistakes
Never hurt eachother
Do whatever it takes

Let's promise forever
because we know it's true
We'll have eachother
We'll make it through





Submitted on 2006-10-22 20:36:53 Terms of Service / Copyright Rules
Submissions: [ Previous ] [ Next ]
1: >_<
2: I dunno...
3: meh!
4: Pretty cool
5: Wow!


||| Comments |||


122450


Be kind, take a few minutes to review the hard work of others <3
It means a lot to them, as it does to you.