[ Join Free! ]
(No Spam mail)


<<

|

>>
Submission Name: Shadow me not

--------------------------------------------------------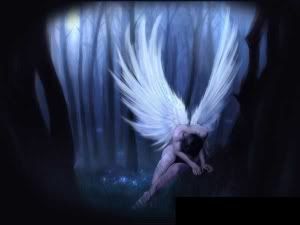 | | |
| --- | --- |
| Author: | Twisted |
| Elite Ratio: | 7.47 - 159/57/75 |
| Words: | 109 |

| | |
| --- | --- |
| Class/Type: | Misc/Misc |
| Total Views: | 762 |
| Average Vote: | 5.0000 |
| Bytes: | 860 |
Description:
Wrote this in thrid grade, and I'm sure you can tell...
Shadow me not

-------------------------------------------




Do not color me in the shadows.
The shadows.
And Darkness.
Becomes destruction.
But not to me.
I am not afraid.
Darkness…
Shadows…
At night.
Hide from the light.
Shadow Me Not.
There are shadows in everyone's past.
Darkness…
Stand closer to the light and your shadow becomes longer.
But do not be afraid and remember.
Remember…
Shadows Me Not.
Do not color me with the shadows.
Alone…
Revenge…
Frightened…
Good-bye…
Nothing's forever…
Can I see you again…?
Bend down your head…
So it's come to this…
Good-bye…
Are good-bye's forever…?
Shadow Me Not…
Never ending night…
Good-bye…
Shadow Me Not.
Do not color me with the shadows.






Submitted on 2006-11-05 19:19:10 Terms of Service / Copyright Rules
Submissions: [ Previous ] [ Next ]
1: >_<
2: I dunno...
3: meh!
4: Pretty cool
5: Wow!


||| Comments |||


123975


Be kind, take a few minutes to review the hard work of others <3
It means a lot to them, as it does to you.
cleverly shunned written by CrypticBard
4th Season of Vivaldi written by HisNameIsNoMore
Hollow Points written by RequiemOfDreams
To the King written by HisNameIsNoMore
Cage written by distortedcloud
Treasure Chest written by PieceOfCake
Skin of Fables written by ShadowParadox
Push written by JanePlane
In the Mouth of Elysium written by HisNameIsNoMore
Linger written by saartha
Wasps written by Wolfwatching
Date night written by expiring_touch
Summer Nights written by ollie_wicked
Transparent written by Daniel Barlow
Sunset written by rev.jpfadeproof
It's Night Now written by RisingSon
Once Again written by krs3332003
Wavelength written by saartha
Love Can Be... written by HAVENSMITH92
Break Up written by WriteSomething
The Promise written by annie0888
Fathoms of the Lullaby Sea written by HisNameIsNoMore
Deaf Dumb and Blind is no excuse written by poetotoe
new moon written by CrypticBard
May 31 2018 written by Chelebel
Red Barn written by rev.jpfadeproof
Pressure written by hybridsongwrite
Bond written by saartha
The Song on Your Guitar written by SavedDragon
To Glow written by krs3332003