[ Join Free! ]
(No Spam mail)


<<

|

>>
Submission Name: Dance in Continuance

--------------------------------------------------------
| | |
| --- | --- |
| Author: | Valle_Siddious |
| ASL Info: | 24/Male/Dystopia |
| Elite Ratio: | 2.51 - 93/94/41 |
| Words: | 77 |

| | |
| --- | --- |
| Class/Type: | Poetry/Serious |
| Total Views: | 1024 |
| Average Vote: | No vote yet. |
| Bytes: | 529 |
Description:
NEW! I think i may be getting over the whole depressed poetry thing.

Dance in Continuance

-------------------------------------------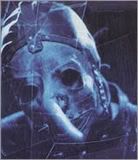 As i Take in a breath
and caress my last thought,
you make haste to the battle
thata's already fought.
We danced in continuance,
lost but not speaking;
Awed by the ignorence your
lives are leaking.
Cry without feeling to comfort
the sad.
Don't deal with depression.
It's only a fad.
Does the dark make us evil?
What if satan wore white?
Let us weep for the hopeless.
They're losing the fight.






Submitted on 2006-11-14 19:33:22 Terms of Service / Copyright Rules
Submissions: [ Previous ] [ Next ]
1: >_<
2: I dunno...
3: meh!
4: Pretty cool
5: Wow!


||| Comments |||


125092


Be kind, take a few minutes to review the hard work of others <3
It means a lot to them, as it does to you.