[ Join Free! ]
(No Spam mail)


<<

|

>>
Submission Name: Gleem

--------------------------------------------------------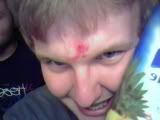 | | |
| --- | --- |
| Author: | dontgetemo |
| ASL Info: | 18/M/OH |
| Elite Ratio: | 1.76 - 12/17/9 |
| Words: | 142 |

| | |
| --- | --- |
| Class/Type: | Poetry/Dark |
| Total Views: | 564 |
| Average Vote: | 4.0000 |
| Bytes: | 953 |
Description:
Read at your own risk!
Gleem

-------------------------------------------




I know that stare
The one you give to me
The blank expresion
Dead confessions
All things inbetween

You lie there
Lifeless and priceless
Keep you on ice
No rotting away
Surly not today
Negative twenty degrees
Will keep you near to me


We dance a dance
Fingers to toes
Taped together
In a moonlight sanata
You follow me well
Move for move
Eye for an eye
You dont need them anyways

No coffin too soon
Because i'll miss you
And I have much more fun
Playing around all day
You make a good puppet
And an even better muppet
And you dont complain about anything

But when the time comes
To put you back in your box
Fear not, for I will come back
I will dust you off
And we will play
Once again





Submitted on 2006-11-21 15:31:13 Terms of Service / Copyright Rules
Submissions: [ Previous ] [ Next ]
1: >_<
2: I dunno...
3: meh!
4: Pretty cool
5: Wow!


||| Comments |||


126002


Be kind, take a few minutes to review the hard work of others <3
It means a lot to them, as it does to you.