[ Join Free! ]
(No Spam mail)


<<

|

>>
Submission Name: Necropolis

--------------------------------------------------------
| | |
| --- | --- |
| Author: | rev.jpfadeproof |
| ASL Info: | 27/m/nyc |
| Elite Ratio: | 6.08 - 366/364/154 |
| Words: | 215 |

| | |
| --- | --- |
| Class/Type: | Poetry/Misc |
| Total Views: | 716 |
| Average Vote: | 5.0000 |
| Bytes: | 1621 |
Description:
wrote this today 12.09.06 after reading an article in the new york times regarding Colma, Ca. a necropolis of 2.2 sq. miles... apparently only 1500 people live among 1.5 million dead.
Necropolis

-------------------------------------------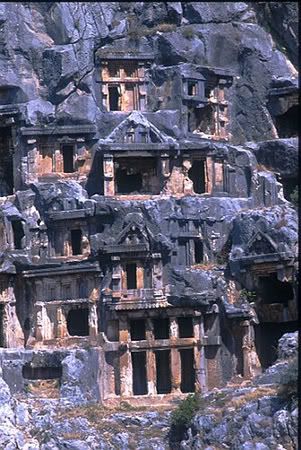 Eternally estranged
Separated from Life
Gone with the aromatic winds
Weighed and found wanting

Decomposed flesh
Suspended with golden rods
Of self-reflection
Groping for the truth
We stumbled toward the sanctuary
Beneath the scorching sun

As lions we roared in life
Mourning solemnly as doves
Vagrant we pompously
Sifted the silver
Clenching the mire between our fists

Deviant minds
Succumbed to mnemonic worms
Of immortality
Conjuring the hope
Of salvation once offered
Attempted apprehension
Vanquished before reception

Blazing tongues
Thrust from smoldering mouths
As if a black mamba
Coiled to strike its prey
Quenching its fierce thirst
With the blood from another victim

As you are we once were
As lovers
We waltzed under a canopy
of stars
We were Sons and Daughters
Possessing a rebellious vitality
As doctors
We attended to the sick and weary
We were poets
That wrote our sonnet's
with Shakespearian flare
As porters
We sanitized the world

Truly life is but a vapor
As a fading flower amidst a storm
Yes, abandon all hope
You that enter here
Be mindful of your creator
For as we are you shall be

For we are the desolate
We are the dead…






Submitted on 2006-12-10 01:45:03 Terms of Service / Copyright Rules
Submissions: [ Previous ] [ Next ]
1: >_<
2: I dunno...
3: meh!
4: Pretty cool
5: Wow!


||| Comments |||


128158


Be kind, take a few minutes to review the hard work of others <3
It means a lot to them, as it does to you.
untitled written by Chelebel
Love and Solitaire written by HisNameIsNoMore
Faith In Line written by MyPeriodical
I'm here written by BloodtornAngel
Summer Nights written by ollie_wicked
It's been a while written by Sharati_hottie
You Make Me speechless written by elephantasia
Blood to Plowshares written by HisNameIsNoMore
All Time Low written by Janesaddiction
The Last to Walk the Earth written by HisNameIsNoMore
Still written by HisNameIsNoMore
Love Can Be... written by HAVENSMITH92
Watch them Die written by HisNameIsNoMore
Ten Poems written by Wolfwatching
In the Mouth of Elysium written by HisNameIsNoMore
Hopelessly Blind written by ForgottenGraves
Can't let my demons go written by faideddarkness
Tides of Man written by HisNameIsNoMore
The First Time written by Wolfwatching
Our Cinder Crisis written by SavedDragon
Aftermath and Waltz written by HisNameIsNoMore
Sunt Mala Quae Libas written by MyPeriodical
To the Epilogue written by HisNameIsNoMore
Cage written by distortedcloud
Lunch written by HisNameIsNoMore
Dirge of Nostalgia written by HisNameIsNoMore
Commencement written by Ramneet
ME written by jjd
Limbo written by HisNameIsNoMore
Convergence written by HisNameIsNoMore