[ Join Free! ]
(No Spam mail)


<<

|

>>
Submission Name: The Mixes Make the Madness

--------------------------------------------------------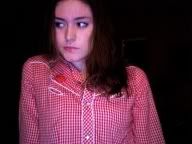 | | |
| --- | --- |
| Author: | taramarie |
| Elite Ratio: | 2.26 - 54/107/61 |
| Words: | 152 |

| | |
| --- | --- |
| Class/Type: | Poetry/Love |
| Total Views: | 1072 |
| Average Vote: | No vote yet. |
| Bytes: | 1074 |
Description:
intoxication
The Mixes Make the Madness

-------------------------------------------





Or something dull like that.

I'm shattered
back in the urban strawl
with a heart that has hardened
and a hope that has started to haunt.



all my masks have been
worn through...
my every move is easily
seen and reduced to
spectators ash.

I don't know how i become
loved or where the boat
will need to dock.

but here i am.
twenty years old and
over it.

his feelings, her ego
oh fuck off.
i'm busy looking up ways
to remember who i
was.

The only real love that ever
mattered was severed
from me.
And like every other
amputee i can
sometimes feel what
was cut off of me.



the dreams are
cracking me open.
creaking and erupting
im falling all over the floor,
in bits and pieces.

Fumbling & bumbling
I'm your girl.





Submitted on 2007-06-04 20:00:29 Terms of Service / Copyright Rules
Submissions: [ Previous ] [ Next ]
1: >_<
2: I dunno...
3: meh!
4: Pretty cool
5: Wow!


||| Comments |||


144176


Be kind, take a few minutes to review the hard work of others <3
It means a lot to them, as it does to you.