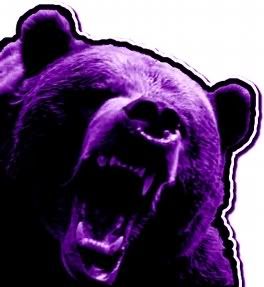 You are a loathsome itch on the tips of my brain
I so tire of having to constantly try and explain
I can never sleep at night because I NEVER got my say
And the fact that you leave me, left me- insane
Left me with no answers in factless dismay
You can not hope to understand the long term damage that you've done
And I know it's deep seeded and not just from your actions begun
But I just couldn't tackle the bear...
I watched you eat and tear away like some lying viral strain
Slowly pushing falsehoods through my lost cerebral vein
So foolishly I stood there, holding a bouquet
Might as well of been black roses covered in cocaine
Because you simply used me up and then you simply went away
I doubt you'll ever be outdone
I hope that you at least had fun
Watching me try to tackle the bear...
Take you away from me and you think that something will remain?
As if you were not the anchor at the end of my fucking chain
I said I fucking love you and I know that it's cliché
I can't comprehend why you only seem to wish upon me pain
You are missing all the simple things I'm trying to convey
Well, nothing really matters in your long run
And I hope you one day realize I'm not to be forgotten- I'm the one
For you I could have tackled the bear...