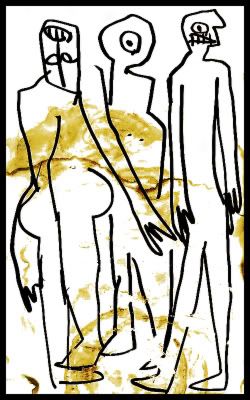 The pretension; it melts off of you in waves
Like a candle lit for days-
The shape you hold now is not your own
How I wish I could get through to you
and not because I care
But because I want so very much to be there
My only wish:
to watch you burn!
BURN YOURSELF OUT!!!
Head held high, without a reason I can see
"Hypocrisy is not a lie"
, you plea as you deny
Righteousness is your prison and you are it's detainee
I am the poison fruit you ate off your pretty poison tree
Knowing what I now know; I've a simple knowledge to bestow:
Although you're boastful and assuming when most eyes are upon you
My words won't let you go; they're as consuming as they are true
The tears I know you cry; they are a comfort to me
These memories that you keep in your bed before you fall asleep
You'll reap what you sow...
You're sowing what you'll reap!
Alone but not alone
A different person than the reflection that you've shown
Such a portentous monster;
nothing you could ever put to paper will matter
In your long run, in their long run;
your reflection, how it aches to shatter
You're not as strong, no, not as brave as they believe
If they could see you now
-in your moments of doubt
It does not matter how hard you try to achieve
It does not matter how many you deceive
My words eat at you like maggots;
nesting in your brain
You perceive yourself the fire
You are not even a flame!
Your acclaim is a fašade
Because dogs, you see... they will attempt to mate with anything!
Burn yourself out!
Now, let me bask within the glow
I watered each and every twisted seed of your self-doubt with gasoline
Now let me watch you preen!
Preen in the ashes, bitch- You're the Queen of all that's left of yourself...