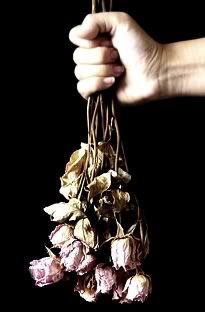 These flowers are just so baleful;
I cannot infer the meaning they hold
A
phantasy
held in your twisted hand-
it is a death
well deserved
I cannot comprehend why these zombies want to touch me
I'm just like a dying flower, in a sea of your complacency-
I cry out
I beg for a forgiveness divine and a sympathetic shoulder to stab,
with a knife,
now you are
bleeding out
smiles and pills...
I can take it all from the great beyond that inspires me to crush- to maim,

to destroy

and kill-
in my tiny cardboard city
My touch;
it burns hot and radioactive- shake my hand,
show some manners
Following,
ever following-
painted up in a traced shadow of blue
I saw you from across the years-
the minutes vexed me as they crept
Hot, plastic Asians can't make up their minds
Turn.
your.
back.
-My blood does not taste like a delicious Christmas feast
These flowers were alive when I picked them
-I give you dead things so you will love me more
I can measure the amount you care,
truly,
turn time into centimeters with this ruler, here-
and it looks to be around two-point-three inches...
...Living flowers come in pots.