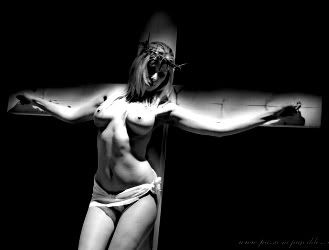 A legion of devils has entered a herd of swine:
All the old creeds, they decayed...
The smoldering remains;
how they lit my lungs ablaze!
-As I inhaled the rejection of religion
You talk of progress?
Little secrets formed?
A ritual of redundant smiles
Groan over the syn as you slip it in
her
Know the rigid frame; thoughts and throats-
it's all the same
Obscurity, you disavow me
Forgotten philosophers;
who did mourn thee?
Ruins of the past, altars made of stone will never last
This decaying world perfumed with the fragrance of our lives...
I listen at the gate
Here is a pamphlet about how abortion is the safest way to go
-circulate amongst The Faithful
"On thee I will build My Church"
Satan's snares, they manifest, in the form of female sex
"Woman, you ARE the Gate to Hel"
So you want to be a Saint?
Keep yourself too miserable to be wicked:
-Insert a sharp stone into your foot and leave it be
-Rest in a nest of red-ants and submit to His decree
Delirium of The Fallen, who was it that sought your ruin?
Satan brings the downfall of men through the enticements of women
Make thyself a eunuch for The Kingdon of Heaven's sake!
Mortify your flesh:
I will sew you up for years in fresh-cut animal skins with,
under African sunrise,
only an aperture to breathe through forgiveness of your sins
Now pray and fast
Fast and pray!
-With no opening,

save mouth and nose,

in these permanent pelt clothes;
You've accumulated many things, both still and animate
Crawl into the Hyena's den,
now naked in skin that has not known water in several years,
lay down and await your final end
Satan does not want you now, and willfully so...
You wish your place at His side?
Eat nothing but grass and make your clothes of it as well-
-interwoven with thorns
Never to speak again
For this is how they showed their Faith in the days of yesterwhen
Weld an iron-hoop from your waist down to your knees and limp about for years
Every Sunday, in His honor, wrap yourself in rope so tight you break out in sores
-Sores that you may never treat
Never bathe
Now your soul is truly saved;
No one could stand your presence,
Satan will pass you by...
Weep over your weakness when you need to eat to live
Sleep on splintered, knotted-wood and shards of glass
Lay naked in the snow for days or rolling 'round a bed of thorns
Rub salt, pepper and vinegar in the wounds before you go to Mass
Place dead mice in your mouth!
Heavenly begotten children:
Remain faithful and true to the polygamous god you have married
Eat the flesh and drink the blood of your sacrificed spouse
-And watch the children vomit crooked pins
Satan, at times, fills human brains with knowledge
For thinking is blasphemy and,
according to the scriptures,
punishable by death!
Don't think; they'll burn you alive
Don't think;
they'll burn you alive
DON'T THINK; THEY'LL BURN YOU ALIVE
Pallid, bloodless complexion and malicious forgiveness
My clergy is bloodthirsty
Satan is present at every service
At every Mass with a legion of devils
Let the consecrated bells ring
"But to the unbeliever---
Lord, visit him wha' did employ him,
Lord, visit him wha' did employ him
And pass not in Thy mercy by them,
Nor hear their pray'r,
But for Thy people's sake destroy them
And dinna spare!"
-Robert Burns

(Holy Willie's Prayer)