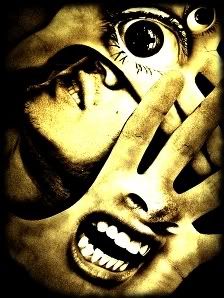 ________________________________________________________
Diluted, dissolved... I fear I'm
water-soluble
-Not a weakness to distillation or saline
...I love you
MORE
than salt.
-You break glass and it
shatters
I'm not broken.
I did fall, though
And then I simply dissipated
-Not frayed,
or come unstitched, like a fabric
There is not a "quick-fix" with glue or thread
It's a mess
There's nothing left.
Not washed away (that implies a cleanness)
-rather; un-existed.
Neither missed nor mourned
Neither documented or remembered
Unmade.
-Nothing left to be forgotten
Or forgiven
Let-alone looked upon fondly...
What are these words, then?
A now murdered echo resounding?
-No source left but the resonation continues.
...a star-source; a dead sun
...the tree falling alone in the forest
...one hand clapping......
...what does it (do I) even matter?
I was.
I became rhetorical.
I was no longer.
(...I was not)
So then; what remains to ponder?
Echoes end eventually
...please,
please
tell me that echoes end eventually......