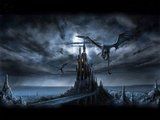 Wearily I walk the trail of scarlet tears
where the rim of the shattered mountains
rips a jagged wound in the soft underbelly
of a bruised and blood drenched sky.
Black soot may be dripping
from my sightless eyes,
yet still I see
where this trail is leading me.
There she stands
by the alter of the damned.
How enchanting, she makes death a wanton look,
she bends to kiss my lips,
a hint of cinnamon and gallows breath.
A light caress of sharpened steel highlights
the wounded cries and dying
sighs of every victim,
who has ever gazed into her eyes.
Sweetly she whispers in my torn and sutured ear
"I never forget one of my own
and now it is time to carry you home."
We rise on an anthracitic breeze
to drift over carbonized trees,
well above the glowing coastline
and its misshapen heaps of bestial slavered ruins.
She says to me
"do you like how I have redone the place?
I was growing so bored with bright colors,
and this quite fits my present mood"
I only sigh and say,
"Yes dear you have certainly outdone yourself
this time."