[ Join Free! ]
(No Spam mail)


<<

|

>>
Submission Name: Quitting Time

--------------------------------------------------------
| | |
| --- | --- |
| Author: | DaleP |
| ASL Info: | 57/M/TX |
| Elite Ratio: | 6.21 - 629/553/330 |
| Words: | 114 |

| | |
| --- | --- |
| Class/Type: | Poetry/Longing |
| Total Views: | 307 |
| Average Vote: | No vote yet. |
| Bytes: | 706 |
Description:
Quitting Time

-------------------------------------------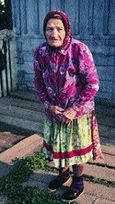 Burnt offerings on a stony dank hill
Arthritic bones feel the bite in nights chill
A dozen sacrifices left to inter
And I'm wondering what became of her

Where is that young priestess that I once was
That young woman my mom called peach fuzz
It was a thrill to incant mystic rites
To divine entrails by bewitching firelight

The first use of the obsidian blade
That undulating shriek the virgin made
But it's gotten old like my weary bones
I need to rest and spend some time alone

Oh wouldn't it be fine to live at the lake
With garden weeds instead of guts on my rake






Submitted on 2010-12-30 23:34:22 Terms of Service / Copyright Rules
Submissions: [ Previous ] [ Next ]
1: >_<
2: I dunno...
3: meh!
4: Pretty cool
5: Wow!


||| Comments |||


188531


Be kind, take a few minutes to review the hard work of others <3
It means a lot to them, as it does to you.
On Loop written by Daniel Barlow
To written by SavedDragon
This written by Chelebel
Munyonyo written by expiring_touch
Incubus written by monad
The Song on Your Guitar written by SavedDragon
Hopelessly Blind written by ForgottenGraves
One Thing written by Wolfwatching
Giving written by jjd
Sunset written by rev.jpfadeproof
Devils in the Details written by endlessgame23
Deaf Dumb and Blind is no excuse written by poetotoe
To the King written by HisNameIsNoMore
The Promise written by annie0888
Love Can Be... written by HAVENSMITH92
It's been a while written by Sharati_hottie
When Crows Tick on Windows written by metallichick786
Wasps written by Wolfwatching
Be Free written by hybridsongwrite
Pressure written by hybridsongwrite
Date night written by expiring_touch
Cage written by distortedcloud
In My Head written by faideddarkness
You Make Me speechless written by elephantasia
Bond written by saartha
Pain, an elixir. written by Ramneet
ME written by jjd
Hollow Points written by RequiemOfDreams
Transparent written by Daniel Barlow
In the Mouth of Elysium written by HisNameIsNoMore