[ Join Free! ]
(No Spam mail)


<<

|

>>
Submission Name: Birthday Treat

--------------------------------------------------------
| | |
| --- | --- |
| Author: | DaleP |
| ASL Info: | 57/M/TX |
| Elite Ratio: | 6.21 - 629/553/330 |
| Words: | 117 |

| | |
| --- | --- |
| Class/Type: | Poetry/Dark |
| Total Views: | 245 |
| Average Vote: | No vote yet. |
| Bytes: | 879 |
Description:
Birthday Treat

-------------------------------------------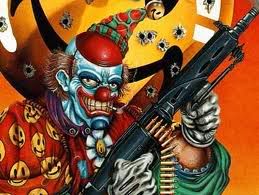 Somber Clown cappers to an awe sick sky
Burnt by breath of dragons passing by
Fading shades of fairies dripping dreams
The show tonight grips you tight
It glues you to the scene
Vermillion flower skeletons
Glowering from mezzanines
Vacant staring zombies
Eating clouds of tangerines
Crimson rain patters down
Crimson splatters on the ground
Little Miss Mary's pale and scary
Little Miss Mary's all unwary
Bright red butterflies stitched and bound
Bright red butterflies on birthday gowns
Somber Clown Happy Clown
Party Clown chambering rounds
Going to bring the big top down
Jacking jackets coughing clatters
Dreams in tatters what's the matter
Its just a Clown mad as a hatter
Birthday treat aren't Clowns neat





Submitted on 2011-01-01 05:48:43 Terms of Service / Copyright Rules
Submissions: [ Previous ] [ Next ]
1: >_<
2: I dunno...
3: meh!
4: Pretty cool
5: Wow!


||| Comments |||


188550


Be kind, take a few minutes to review the hard work of others <3
It means a lot to them, as it does to you.
Our Cinder Crisis written by SavedDragon
To written by SavedDragon
Linger written by saartha
What happens written by Wolfwatching
untitled written by Chelebel
Devils in the Details written by endlessgame23
Incubus written by monad
Fathoms of the Lullaby Sea written by HisNameIsNoMore
Push written by JanePlane
Be Free written by hybridsongwrite
Love Can Be... written by HAVENSMITH92
To the King written by HisNameIsNoMore
Munyonyo written by expiring_touch
4th Season of Vivaldi written by HisNameIsNoMore
Bee Keeper written by endlessgame23
Wish written by Daniel Barlow
Sunset written by rev.jpfadeproof
Date night written by expiring_touch
cleverly shunned written by CrypticBard
Bond written by saartha
In the Mouth of Elysium written by HisNameIsNoMore
May 31 2018 written by Chelebel
Hopelessly Blind written by ForgottenGraves
Wavelength written by saartha
I will call out your name written by RisingSon
Break Up written by WriteSomething
102.3 written by rev.jpfadeproof
Pain, an elixir. written by Ramneet
Unfortunate Reality written by TeslaKoyal
Treasure Chest written by PieceOfCake