[ Join Free! ]
(No Spam mail)


<<

|

>>
Submission Name: Blood Moon

--------------------------------------------------------
| | |
| --- | --- |
| Author: | DaleP |
| ASL Info: | 57/M/TX |
| Elite Ratio: | 6.21 - 629/553/330 |
| Words: | 146 |

| | |
| --- | --- |
| Class/Type: | Poetry/ |
| Total Views: | 308 |
| Average Vote: | No vote yet. |
| Bytes: | 950 |
Description:
Blood Moon

-------------------------------------------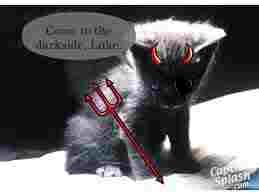 By the light of a Blood Moon's Rise
Evil has gathered his allies
In a froth of fright
In dark of night
The dead frolic around
And ghouls crawl from the ground
A thousand virgins bathe in boiling blood
Grim nightmares churn bodies into mud
Banshees wail of impending death
Succubi steal that final breath
Vampires gloat of red sun's demise
The final terror is on the rise
Werewolves are grinding bones
911 is deleted from all the phones
Mother church is in disgrace
Innocence is all unlaced
Every grim and grizzled fey
Is now let out to play
Squatting above them all
The chosen one has come to call
He has opened the way
To the end of days
Darkness finally is holding sway
And all he has left to say
Well bless my wicked heart
Just let the screaming start






Submitted on 2011-01-13 00:48:44 Terms of Service / Copyright Rules
Submissions: [ Previous ] [ Next ]
1: >_<
2: I dunno...
3: meh!
4: Pretty cool
5: Wow!


||| Comments |||


188768


Be kind, take a few minutes to review the hard work of others <3
It means a lot to them, as it does to you.
Unfortunate Reality written by TeslaKoyal
Giving written by jjd
One Thing written by Wolfwatching
To written by SavedDragon
Once Again written by krs3332003
Push written by JanePlane
Hollow Points written by RequiemOfDreams
4th Season of Vivaldi written by HisNameIsNoMore
Summer written by layDsayD
102.3 written by rev.jpfadeproof
The Promise written by annie0888
Hopelessly Blind written by ForgottenGraves
Deaf Dumb and Blind is no excuse written by poetotoe
Date night written by expiring_touch
To the King written by HisNameIsNoMore
Bee Keeper written by endlessgame23
Still Fighting See? written by ForgottenGraves
Wasps written by Wolfwatching
I will call out your name written by RisingSon
Wavelength written by saartha
Wish written by Daniel Barlow
Fathoms of the Lullaby Sea written by HisNameIsNoMore
Pressure written by hybridsongwrite
Red Barn written by rev.jpfadeproof
untitled written by Chelebel
Song written by Daniel Barlow
Love Can Be... written by HAVENSMITH92
It's Night Now written by RisingSon
To Glow written by krs3332003
Be Free written by hybridsongwrite