[ Join Free! ]
(No Spam mail)


<<

|

>>
Submission Name: Good Intentions

--------------------------------------------------------
| | |
| --- | --- |
| Author: | DaleP |
| ASL Info: | 57/M/TX |
| Elite Ratio: | 6.21 - 629/553/330 |
| Words: | 77 |

| | |
| --- | --- |
| Class/Type: | Poetry/ |
| Total Views: | 461 |
| Average Vote: | No vote yet. |
| Bytes: | 522 |
Description:
Good Intentions

-------------------------------------------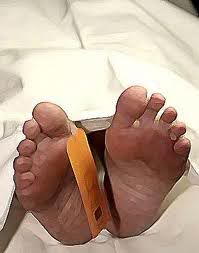 The path of good intentions
is lined with fragmentation mines.

To keep the scarlet nails
from releasing hot entrails
you spike yourself with lithium
and sleep alone in the panic room.

You put a condom on your Glock
so the bullet won't contaminate
your
brain.

You figure just one shot
will keep you sane.

This explains
the minor key of mockery
that echos through the morgue.






Submitted on 2011-08-21 01:30:23 Terms of Service / Copyright Rules
Submissions: [ Previous ] [ Next ]
1: >_<
2: I dunno...
3: meh!
4: Pretty cool
5: Wow!


||| Comments |||


192207


Be kind, take a few minutes to review the hard work of others <3
It means a lot to them, as it does to you.
descent written by TheBadSadMan
4th of July written by layDsayD
The Song on Your Guitar written by SavedDragon
written by Daniel Barlow
cleverly shunned written by CrypticBard
Treasure Chest written by PieceOfCake
Wish written by Daniel Barlow
102.3 written by rev.jpfadeproof
Break Up written by WriteSomething
The Severed Head written by HisNameIsNoMore
Red Barn written by rev.jpfadeproof
Neither Here nor There written by layDsayD
Brigit written by endlessgame23
Giving written by jjd
Song written by Daniel Barlow
Supernatural Cowboy Sleuth (final) written by endlessgame23
Pain, an elixir. written by Ramneet
Summer written by layDsayD
It's Night Now written by RisingSon
Bond written by saartha
Devils in the Details written by endlessgame23
One Day written by WriteSomething
Every..... written by jackz
Whiteout written by layDsayD
Cosmic Dreams written by Chelebel
I will call out your name written by RisingSon
Trails written by Daniel Barlow
True Death written by layDsayD
Dashboard Light written by layDsayD
Or are we written in the sand? written by Chelebel