[ Join Free! ]
(No Spam mail)


<<

|

>>
Submission Name: On Nameless Shore

--------------------------------------------------------
| | |
| --- | --- |
| Author: | DaleP |
| ASL Info: | 57/M/TX |
| Elite Ratio: | 6.21 - 629/553/330 |
| Words: | 239 |

| | |
| --- | --- |
| Class/Type: | Poetry/Longing |
| Total Views: | 589 |
| Average Vote: | No vote yet. |
| Bytes: | 1702 |
Description:
On Nameless Shore

-------------------------------------------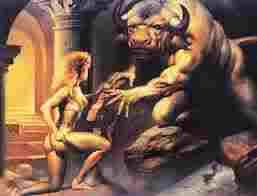 Lost in that wearied hour
when the chill of night seeps into bones
and all good men have long since succumbed
to a well deserved rest.
I wail at the wall of sleep.
The torn veil of a lush longing glimmers
in haze filled eyes.

Garlands of golden snakes
writhe in sinuous wreaths,
wending
around a waking dream.
Until
tossing in fevered slumber
I am assailed by the redolent wafting of dark perfumes.
A weir-like enchantment drifts to me
on moon dream shadows.

Cresting in undulating waves
memories of her come in ethereal form.
She is a golden rhythm
festooned with the crushed petals of narcotic flowers.

Her breath is a flowing lullaby of lingering lassitude
that brushes a blush upon my heat.
A flutter of kisses I can neither bear nor deny.

A storm brews building to burst
in unending torrents.
I flounder.
Lost in the wearied hour no more.
I am subsumed
consumed
by a night-creature of
demonic passion.

There
upon the shores
of a vast and nameless sea.
A she-serpent,
she with those golden eyes glinting.

With an ever tighter grip
She
entwines her way around my lust.

In a monstrous gush
I become the bull pawing from the primal ooze below.
Blowing and steaming
my nostrils flare.
I bellow begging for release.
lost in the inferno
forever to burn upon the brink
my love
smoldering
within
Her .......





Submitted on 2011-09-12 01:06:39 Terms of Service / Copyright Rules
Submissions: [ Previous ] [ Next ]
1: >_<
2: I dunno...
3: meh!
4: Pretty cool
5: Wow!


||| Comments |||


192478


Be kind, take a few minutes to review the hard work of others <3
It means a lot to them, as it does to you.
Giving written by jjd
Pain, an elixir. written by Ramneet
Incubus written by monad
Wavelength written by saartha
new moon written by CrypticBard
Linger written by saartha
Be Free written by hybridsongwrite
It's Night Now written by RisingSon
Summer Nights written by ollie_wicked
In the Mouth of Elysium written by HisNameIsNoMore
untitled written by Chelebel
Skin of Fables written by ShadowParadox
Cage written by distortedcloud
The Promise written by annie0888
Hopelessly Blind written by ForgottenGraves
Fathoms of the Lullaby Sea written by HisNameIsNoMore
Red Barn written by rev.jpfadeproof
Hollow Points written by RequiemOfDreams
Wasps written by Wolfwatching
The Song on Your Guitar written by SavedDragon
cleverly shunned written by CrypticBard
Bee Keeper written by endlessgame23
May 31 2018 written by Chelebel
Sunset written by rev.jpfadeproof
Unfortunate Reality written by TeslaKoyal
Munyonyo written by expiring_touch
Love Can Be... written by HAVENSMITH92
To written by SavedDragon
Ten Poems written by Wolfwatching
In the end written by Janesaddiction