[ Join Free! ]
(No Spam mail)


<<

|

>>
Submission Name: Puppy-Love

--------------------------------------------------------
| | |
| --- | --- |
| Author: | DaleP |
| ASL Info: | 57/M/TX |
| Elite Ratio: | 6.21 - 629/553/330 |
| Words: | 55 |

| | |
| --- | --- |
| Class/Type: | Poetry/Love |
| Total Views: | 427 |
| Average Vote: | No vote yet. |
| Bytes: | 420 |
Description:
Puppy-Love

-------------------------------------------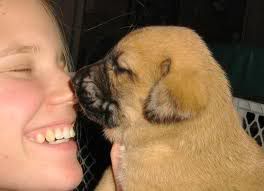 Cream lace confessions
languidly drift
to repose.
And
with a puckered up pose
offer a kiss
to the tip of your nose.
Glissading at sail
over wavelets of grass,
bouquet of puppy love
wriggling free
from your clasp.
Eliciting giggles
with stumbling
travails
all of the time
merrily wiggling his tail.






Submitted on 2011-09-24 05:04:23 Terms of Service / Copyright Rules
Submissions: [ Previous ] [ Next ]
1: >_<
2: I dunno...
3: meh!
4: Pretty cool
5: Wow!


||| Comments |||


192665


Be kind, take a few minutes to review the hard work of others <3
It means a lot to them, as it does to you.
When Sirens Whisper written by HisNameIsNoMore
A Worsening Effect written by Daniel Barlow
Johnny's Cock written by endlessgame23
Rooted in Nature written by Chelebel
Verse: written by Daniel Barlow
Starseed written by endlessgame23
Gaia written by endlessgame23
Adoration written by TheStillSilence
Coversheets written by TheStillSilence
a leaf of shadow and edge written by Daniel Barlow
Beauty Rest written by jackz
In a Corner written by jeniecel
Honeymoon written by TheStillSilence
Loop-di-Loop written by endlessgame23
A bit of Pain written by teika5
Dream written by closetpoet
Meaningless Meanings written by ForgottenGraves
Things They (Don't) Say written by TheStillSilence
Untitled written by Daniel Barlow
Sword in the Water written by Wolfwatching
Twin Intercept written by Daniel Barlow
A Thousand Reflections written by endlessgame23
Hyle written by endlessgame23
Supernatural Cowboy Sleuth written by endlessgame23
(Untitled Song) written by TeslaKoyal
None the Wiser written by endlessgame23
Day 6 written by TheStillSilence
Deep written by Janesaddiction
Not the Devil, but the Wind written by endlessgame23
going,,,"Skin." written by teika5