[ Join Free! ]
(No Spam mail)


<<

|

>>
Submission Name: Of Two Easters

--------------------------------------------------------
| | |
| --- | --- |
| Author: | Blue Monk |
| Elite Ratio: | 8 - 1556/457/118 |
| Words: | 198 |

| | |
| --- | --- |
| Class/Type: | Poetry/Religious |
| Total Views: | 937 |
| Average Vote: | No vote yet. |
| Bytes: | 1217 |
Description:
For every thing there is a beginning.
Of Two Easters

-------------------------------------------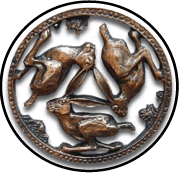 Through lips of flesh you spoke to us
of living water, endless days
deemed fantastic, peace ecstatic
Tree of Life you hung to die

God whose spirit with us stays
help us few who wonder why
such death you chose from which you rose
Great Teacher, can we now suppose
the Three in One and One the Same
your power ours to claim?

Will your angels tend to us your garden gate to find?
Will your angels cry with us for loved ones left behind?
What of those who laugh at us and say we've lost our mind?
for death to self and born again's the practice of our kind

Such practice does make perfect for a resurrection day
but Heaven as a kingdom seems so very far away
As Easter morn we hide some eggs that children have their play

What of the hare our goddess chose
Eostre most fair put in the moon
to lay the cosmic egg of life
that immortality prevail
for every dawn and every Spring
and every new moon born again
becomes the Easter Bunny tale
as now those gods we must curtail
while seeking still our treasures





Submitted on 2011-12-29 00:59:58 Terms of Service / Copyright Rules
Submissions: [ Previous ] [ Next ]
1: >_<
2: I dunno...
3: meh!
4: Pretty cool
5: Wow!


||| Comments |||


193764


Be kind, take a few minutes to review the hard work of others <3
It means a lot to them, as it does to you.