[ Join Free! ]
(No Spam mail)


<<

|

>>
Submission Name: Beyond Good & Evil

--------------------------------------------------------
| | |
| --- | --- |
| Author: | Realitywarp87 |
| ASL Info: | 25/M/FL |
| Elite Ratio: | 3.1 - 27/53/63 |
| Words: | 208 |

| | |
| --- | --- |
| Class/Type: | Poetry/Serious |
| Total Views: | 821 |
| Average Vote: | No vote yet. |
| Bytes: | 1299 |
Description:
What makes something good or bad? Or wrong and right? Should personal happiness suffer, or be sought???
Beyond Good & Evil

-------------------------------------------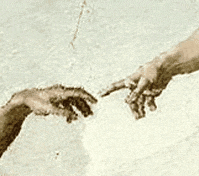 I have no doubt I am in war
An inner turmoil I've fought before
Never winning, no end in sight
Just a constant struggle I've always bore

This battle begins with wrong and right
Resisiting temptations to win the fight
But what defines a saint from a sinner,
If the saint's held in darkness and the sinner in light?

Could there honestly only be one winner?
No hope for the lowly, not even a glimmer?
I'm being pulled in two, from what I can tell
And the damage is only wearing me thinner

It's either good or it's bad, to obey or rebel
It's either going to heaven or burning in hell
My conscience is confused by internal conversations
As an angel gives caution, while a demon quells

This is the moment that sparks realization
To side with the angel and be granted salvation
To end this crusade is what I desire
Before I fall into the demon's eternal damnation

But it is not as simple as choosing ice over fire
Because bad can be good, as is the truth from a liar
To act on our impulse is only the norm
And it is that mentality that makes my condition so dire...





Submitted on 2012-02-09 00:39:17 Terms of Service / Copyright Rules
Submissions: [ Previous ] [ Next ]
1: >_<
2: I dunno...
3: meh!
4: Pretty cool
5: Wow!


||| Comments |||


194214


Be kind, take a few minutes to review the hard work of others <3
It means a lot to them, as it does to you.