[ Join Free! ]
(No Spam mail)


<<

|

>>
Submission Name: If A Tree Falls Softly

--------------------------------------------------------
| | |
| --- | --- |
| Author: | DaleP |
| ASL Info: | 57/M/TX |
| Elite Ratio: | 6.21 - 629/553/330 |
| Words: | 116 |

| | |
| --- | --- |
| Class/Type: | Poetry/ |
| Total Views: | 526 |
| Average Vote: | No vote yet. |
| Bytes: | 2793 |
Description:
If A Tree Falls Softly

-------------------------------------------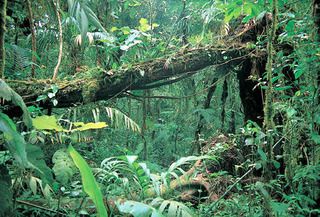 Somewhere beyond wisdom
lurking in the forest of the mind
a tiger crouches on an ancient game trail.
This stalking wraith of primeval memory
is a flitting phantom that blends into our
modern imagination.

Still beneath the elder growths structured lair,
light filters through in puzzle pieces.
Clues are left as dappled bits of imagery
on sun flecked fern and vine.

There for study every intersecting intricacy
remains as an olden runic tracery
in coded bits of lore.
Somewhere in this elusive archive
the intrepid soul may find
that the answers are just questions
quantumly tangled with the mind.






Submitted on 2012-10-13 12:49:01 Terms of Service / Copyright Rules
Submissions: [ Previous ] [ Next ]
1: >_<
2: I dunno...
3: meh!
4: Pretty cool
5: Wow!


||| Comments |||


196226


Be kind, take a few minutes to review the hard work of others <3
It means a lot to them, as it does to you.
A Sense Of Things written by Daniel Barlow
untitled written by Outlaw
going,,,"Skin." written by teika5
Across the bed written by expiring_touch
Relentless. The Visceral Fracture. written by Daniel Barlow
Day 6 written by TheStillSilence
Adoration written by TheStillSilence
Things They (Don't) Say written by TheStillSilence
The Abyss of Love written by poetotoe
Ciggarettes written by Poetic_tragedy6
Loop-di-Loop written by endlessgame23
The World written by jjd
The Want written by Daniel Barlow
A Thousand Reflections written by endlessgame23
Florida's Autumn Solstice written by closetpoet
Lost Inside the Race written by ForgottenGraves
Keep written by TheStillSilence
Sword in the Water written by Wolfwatching
A bit of Pain written by teika5
Day 5 written by TheStillSilence
Meaningless Meanings written by ForgottenGraves
The Curtain Call written by faideddarkness
A Worsening Effect written by Daniel Barlow
To the Artist written by HisNameIsNoMore
Snippet written by Daniel Barlow
Mystery Read written by kyserin
Johnny's Cock written by endlessgame23
Not the Devil, but the Wind written by endlessgame23
Supernatural Cowboy Sleuth written by endlessgame23
None the Wiser written by endlessgame23