[ Join Free! ]
(No Spam mail)


<<

|

>>
Submission Name: Distant Shores

--------------------------------------------------------
| | |
| --- | --- |
| Author: | DaleP |
| ASL Info: | 57/M/TX |
| Elite Ratio: | 6.21 - 629/553/330 |
| Words: | 130 |

| | |
| --- | --- |
| Class/Type: | Misc/Love |
| Total Views: | 483 |
| Average Vote: | No vote yet. |
| Bytes: | 6127 |
Description:
Distant Shores

-------------------------------------------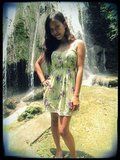 the beach trembles.
the palms bow their fronds
in supplication to graceful form
rivulets of sun run to caress
the shape of love bare

a beam of bright spotlights
a surging tide of raw-
desire flows in endless mounting waves
to thrum and meet in peak

passion flushes hot
kisses on churning shore

pulsing fury
swells in endless tempest
longing for the sheath of
purity
where only symphonic
stroking may then tame
a man's primeval nature

rent and spent of strength
rivulets run teasing fingers
with the taste of merriment
upon their tips

the sun sighs content to watch
as beauty stands
dressed in innocence
sweetly subduing
force of nature
by her gift





Submitted on 2012-12-16 01:10:29 Terms of Service / Copyright Rules
Submissions: [ Previous ] [ Next ]
1: >_<
2: I dunno...
3: meh!
4: Pretty cool
5: Wow!


||| Comments |||


196614


Be kind, take a few minutes to review the hard work of others <3
It means a lot to them, as it does to you.
The Unicorn written by BlazeFlamme
Day 6 written by TheStillSilence
Dream written by closetpoet
Life is moments written by Ramneet
Supernatural Cowboy Sleuth (3) written by endlessgame23
Delicious Stews written by elephantasia
Supernatural Cowboy Sleuth (1) written by endlessgame23
Supernatural Cowboy Sleuth written by endlessgame23
Comme un lion en avril written by Outlaw
winners circle written by ShyOne
Things They (Don't) Say written by TheStillSilence
Lost Inside the Race written by ForgottenGraves
Records I written by Raphael
(Untitled Song) written by TeslaKoyal
// Seasonal Song written by ShadowParadox
Coversheets written by TheStillSilence
untitled written by ShyOne
When Sirens Whisper written by HisNameIsNoMore
Cover written by saartha
Journey written by endlessgame23
Tartarus written by endlessgame23
Florida's Autumn Solstice written by closetpoet
I, Plutarch written by HisNameIsNoMore
To the Devil and Candle written by HisNameIsNoMore
Lilitu written by endlessgame23
Redemption written by poetotoe
Love written by saartha
Honeymoon written by TheStillSilence
Shut Up written by annie0888
phantom limbs written by expiring_touch