[ Join Free! ]
(No Spam mail)


<<

|

>>
Submission Name: When the Sun Meets the Moon

--------------------------------------------------------
| | |
| --- | --- |
| Author: | DaleP |
| ASL Info: | 57/M/TX |
| Elite Ratio: | 6.21 - 630/554/330 |
| Words: | 125 |

| | |
| --- | --- |
| Class/Type: | Poetry/Love |
| Total Views: | 1115 |
| Average Vote: | No vote yet. |
| Bytes: | 739 |
Description:
When the Sun Meets the Moon

-------------------------------------------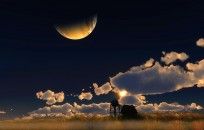 I miss you from beyond that great bank of clouds
that once floated closer to you than now to me.
absence is as the world gets longer
and dark settles like tar engulfing me whole.
but I can hear love from some vast distance
it comes whispered by wind brushed branches,
and in the crumbled crunch of dry fallen leaves.

life can be as simple
as a tiny blue flower
being buzzed by a bee.
no matter how long or dark the hour
When
I remember your eyes and your smile
the sun returns to play within me for a while.
and everything fades back into view
until the dream of a
kiss
meets the reality of your lips






Submitted on 2013-10-12 02:11:27 Terms of Service / Copyright Rules
Submissions: [ Previous ] [ Next ]
1: >_<
2: I dunno...
3: meh!
4: Pretty cool
5: Wow!


||| Comments |||


198039


Be kind, take a few minutes to review the hard work of others <3
It means a lot to them, as it does to you.