[ Join Free! ]
(No Spam mail)


<<

|

>>
Submission Name: Detroit

--------------------------------------------------------
| | |
| --- | --- |
| Class/Type: | Poetry/Serious |
| Total Views: | 1303 |
| Average Vote: | No vote yet. |
| Bytes: | 919 |
Description:
I

love

this place!
Detroit

-------------------------------------------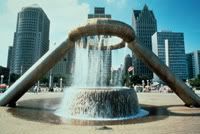 At night, shadows fall off a negligent moon
Fires burn away unwanted debt
Villagers loot vacant houses
Vices pile up like trash on evacuated lots
Where garbage-pickers amass their riches

Colors are primary, unblended and unattached
Crime shows no allegiance
Perpetrators are victims are perpetrators
Artists draw bleak portraits of borrowed blood
On a canvas of brick and mortar

Order is chaotic, chaos neatly sorted
Corruption stands on a soapbox
Children preach gospel to incredulous elders
Lawmakers take breaks and break laws
The law makes itself on the street

In her heart is a fountain of possibility
Raining on a body void of expectations
Dreams are of randomly selected numbers
Everyday is a Groundhog's Day parade
A celebration of a spring yet to come





Submitted on 2004-12-09 09:33:01 Terms of Service / Copyright Rules
Submissions: [ Previous ] [ Next ]
1: >_<
2: I dunno...
3: meh!
4: Pretty cool
5: Wow!


||| Comments |||


36708


Be kind, take a few minutes to review the hard work of others <3
It means a lot to them, as it does to you.