[ Join Free! ]
(No Spam mail)


<<

|

>>
Submission Name: Haunted

--------------------------------------------------------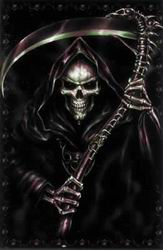 | | |
| --- | --- |
| Class/Type: | Poetry/Love |
| Total Views: | 1011 |
| Average Vote: | No vote yet. |
| Bytes: | 861 |
Description:
This is about someone, not me just being creative. It is about how someone takes over you and how you love them, yet hate them at the same time...I don't think that this is too good, I would like to hear what you think of it...Enjoy...
Haunted

-------------------------------------------




I hate you.
Why are you here?
Won't you just go away.
Leave me alone!

You...
My forever hated one,
Are killing me.
You...
The one I eternally love,
Are a ghost,
Forever haunting me.

Even though I hate you
Because you suck the life out of me,
I still love you.
And even though I love you,
I want you to go away.
I do not need your help.
Please...
Leave me alone.

Everytime my eyes close,
Your face apears in darkness.
Your spirit stalks me.
I hear your voice in my head,
Trying to save me.
I try not to listen,
But it is too loud.

Why?
Why must you care?

I am forever haunted by you...
My eternally cherished one.





Submitted on 2005-03-31 15:29:34 Terms of Service / Copyright Rules
Submissions: [ Previous ] [ Next ]
1: >_<
2: I dunno...
3: meh!
4: Pretty cool
5: Wow!


||| Comments |||


52531


Be kind, take a few minutes to review the hard work of others <3
It means a lot to them, as it does to you.