[ Join Free! ]
(No Spam mail)


<<

|

>>
Submission Name: Terminal Discord

--------------------------------------------------------
| | |
| --- | --- |
| Author: | SouthrnQT |
| ASL Info: | 24/ Female/ Florida |
| Elite Ratio: | 4.51 - 290/271/31 |
| Words: | 99 |

| | |
| --- | --- |
| Class/Type: | Poetry/Death |
| Total Views: | 1156 |
| Average Vote: | No vote yet. |
| Bytes: | 745 |
Description:
This was re-done. I fixed it up a little, changed it and what not.
Terminal Discord

-------------------------------------------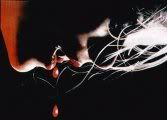 These voices
Relentlessly haunting me
Echoeing within the confines of my mind

Trying to eliviate the pressure
Cupping my ears with my palms
The pounding...why won't it cease?
Coupled with crazy thoughts, wicked memories

Thrashing upon the glacial tile
The desire for silence incombent

Death my only retort as the trenchant blade strikes my veins
Tears fall from my eyes, causing silken rivers upon my cheeks
Crimson spills from my vessel, flooding the underbelly of where this core shall expire

In a terminal daze, the choirs of shrilling noise subside.....
My life now...foreclosed

Finally......peace.





Submitted on 2005-05-04 10:00:13 Terms of Service / Copyright Rules
Submissions: [ Previous ] [ Next ]
1: >_<
2: I dunno...
3: meh!
4: Pretty cool
5: Wow!


||| Comments |||


57381


Be kind, take a few minutes to review the hard work of others <3
It means a lot to them, as it does to you.