[ Join Free! ]
(No Spam mail)


<<

|

>>
Submission Name: March of Eternity

--------------------------------------------------------
| | |
| --- | --- |
| Author: | BloodBaptism |
| ASL Info: | 18/M/TX |
| Elite Ratio: | 2.8 - 17/18/4 |
| Words: | 103 |

| | |
| --- | --- |
| Class/Type: | Poetry/Serious |
| Total Views: | 1030 |
| Average Vote: | No vote yet. |
| Bytes: | 626 |
Description:
This is for my fellow American Soldiers who are fighting in IRAQ and AFGHANISTAN as we speak...
March of Eternity

-------------------------------------------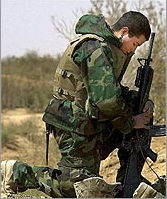 On and on we move towards hell
black and white all know it well
pain throughout our beaten souls
walk on feet torn with holes
making our way towards the end
we march on through our lives defend
tattered clothes and beaten boots
we fight to defend our American roots
toward eternity we march
on and on to the blackened arch
adversary far and wide
fear becomes what courage cant hide
death is part of life of course
but you cant take me off my horse
over seas we march on through
we fight and kill to protect you






Submitted on 2005-05-30 14:37:32 Terms of Service / Copyright Rules
Submissions: [ Previous ] [ Next ]
1: >_<
2: I dunno...
3: meh!
4: Pretty cool
5: Wow!


||| Comments |||


60902


Be kind, take a few minutes to review the hard work of others <3
It means a lot to them, as it does to you.