[ Join Free! ]
(No Spam mail)


<<

|

>>
Submission Name: Natural Emotions

--------------------------------------------------------
| | |
| --- | --- |
| Author: | lmz |
| ASL Info: | 40/female/USA |
| Elite Ratio: | 8 - 3433/1529/84 |
| Words: | 142 |

| | |
| --- | --- |
| Class/Type: | Poetry/Nature |
| Total Views: | 735 |
| Average Vote: | No vote yet. |
| Bytes: | 961 |
Description:
Emotions expressed as only "she" can
Natural Emotions

-------------------------------------------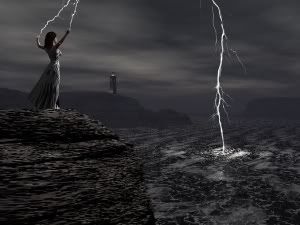 A bright, sunny day when she is happiest
Displays her favorite color in an endless blue sky
A soft, gentle breeze to soothe her soul
Admiring her creation with a peaceful sigh

Her sadness shed with a dark, cold rain
The depth measured as tears fall from her eyes
Expressing pain as only she knows how
Replenishing the earth as she cries

Her anger erupts in a violent fury
Thunderstorms spawn tornados from above
Lightening bolts of destruction seen within
As the madness and hatred she lets go of

Passionate love released in a magnificent sunset
Colors blending so perfect and true
She paints the horizon as her heart sings
Desire creates this breathtaking view

She too, feels emotion
Exhibited in a variety of ways
Beautifully nurturing yet destructive
To be admired till the end of days






Submitted on 2005-07-18 08:03:33 Terms of Service / Copyright Rules
Submissions: [ Previous ] [ Next ]
1: >_<
2: I dunno...
3: meh!
4: Pretty cool
5: Wow!


||| Comments |||


66994


Be kind, take a few minutes to review the hard work of others <3
It means a lot to them, as it does to you.