[ Join Free! ]
(No Spam mail)


<<

|

>>
Submission Name: Forgive Me

--------------------------------------------------------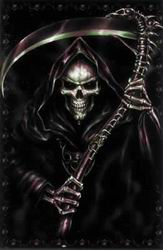 | | |
| --- | --- |
| Class/Type: | Poetry/Misc |
| Total Views: | 1042 |
| Average Vote: | No vote yet. |
| Bytes: | 842 |
Description:
The promise is in the poem...kind of in between the lines i guess...well, like it says, i made a promise, tried to fight, but lost in the end...tell me what you think of it please, i don't think it is the greatest...but then again...i did write it...well enjoy.....
Forgive Me

-------------------------------------------




Please forgive me,
I desperately seek your guidance.
I don't know what to do,
And despite my efforts to fight,
I am losing the battle.
Please forgive me,
I have broken my promise,
But there was no other way out.
In a dark world,
I cry for help,
I look for love.
But in darkness,
I am trapped...
And I die.

Please forgive me.
I desperately search for you.
For your hand in darkness,
Your love in obscurity,
But I can not find you.
I search in fear.
Crying out!
I am sorry!
Please help me.
Once again my blood pours!
This cursed blade has found me again!
I need you.
Hold me tight.
Heal my wounds.
Forgive me,
And save me again.





Submitted on 2005-07-18 08:52:39 Terms of Service / Copyright Rules
Submissions: [ Previous ] [ Next ]
1: >_<
2: I dunno...
3: meh!
4: Pretty cool
5: Wow!


||| Comments |||


66998


Be kind, take a few minutes to review the hard work of others <3
It means a lot to them, as it does to you.