[ Join Free! ]
(No Spam mail)


<<

|

>>
Submission Name: Weakening

--------------------------------------------------------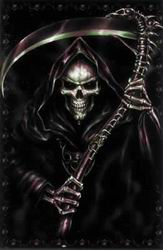 | | |
| --- | --- |
| Class/Type: | Poetry/Misc |
| Total Views: | 880 |
| Average Vote: | No vote yet. |
| Bytes: | 824 |
Description:
It is about feeling weak...and feeling that there is one person who can help you, but they don't realize you need help...i guess....

I don't think i like it very much...well, what do you think of it?
Weakening

-------------------------------------------




I am tired.
Sick of this life.
In the mirror,
I see myself...
So full of shame.
The tears slide down my face.
Where is the light?
Why is my life forever hidden in darkness?
Where is your face...?
Your embrace...?
Hold me tight.

I am tired.
Sick of this life.
Blood drips to the floor...
So slowly,
This curse kills me.
So slowly,
My will breaks.
Where is the guidance I seek?
Where is the light I need to follow?
I need your soft face...
Your precious touch.

I am tired.
Ready to give up.
And everyday that passes,
I grow weaker.
My time here runs short.
Please help me.
And allow me to see your face once more.





Submitted on 2005-07-26 11:34:30 Terms of Service / Copyright Rules
Submissions: [ Previous ] [ Next ]
1: >_<
2: I dunno...
3: meh!
4: Pretty cool
5: Wow!


||| Comments |||


68115


Be kind, take a few minutes to review the hard work of others <3
It means a lot to them, as it does to you.