[ Join Free! ]
(No Spam mail)


<<

|

>>
Submission Name: Power Of Love

--------------------------------------------------------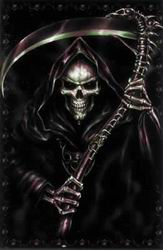 | | |
| --- | --- |
| Class/Type: | Poetry/Love |
| Total Views: | 911 |
| Average Vote: | No vote yet. |
| Bytes: | 897 |
Description:
This topic in this is suicide, and for that reason i hesitate to post this. It is not a well accepted or respected topic in the world of poetry today...or at least so it seems. So i ask of you to say what you must, Just know that this is only an idea i came up with and i am fine, so don't try to preach or anything. Anyways, i hope you enjoy this as well as you possibly can.
Power Of Love

-------------------------------------------




The room is dark.
I sit on the edge of my bed,
Strike a match.
Light a candle.
The knife before me,
In my hand.
Anger in my blood.
I cry,
nd as the tears start to pour,
The blade kisses my wrist.
Over and over again.
Slashing.
I scream!
Crying out!
The anger overpowers me...
Carving deeper,
Searching for the vein.
Tears pouring!
As my blood stains its lips.
One more kiss!
I scream again!
Silence...
My breath is lost,
I am tired.
The candle light retreats,
And in the darkness,
Her face appears.
My weeping eyes look at her.
And I realize,
I love her too much.
I can not leave.
I fall asleep forever scarred.
Reminded every day,
That love is stronger than death.





Submitted on 2005-08-08 09:35:25 Terms of Service / Copyright Rules
Submissions: [ Previous ] [ Next ]
1: >_<
2: I dunno...
3: meh!
4: Pretty cool
5: Wow!


||| Comments |||


69749


Be kind, take a few minutes to review the hard work of others <3
It means a lot to them, as it does to you.