[ Join Free! ]
(No Spam mail)


<<

|

>>
Submission Name: Rachel 3-16-04

--------------------------------------------------------
| | |
| --- | --- |
| Author: | ruejacobs |
| ASL Info: | 39/feminazi/Gehenna |
| Elite Ratio: | 4.82 - 619/473/167 |
| Words: | 229 |

| | |
| --- | --- |
| Class/Type: | Poetry/Childrens |
| Total Views: | 1450 |
| Average Vote: | 5.0000 |
| Bytes: | 1428 |
Description:
wrote this one for my youngest daughter, the Squeak.
Rachel 3-16-04

-------------------------------------------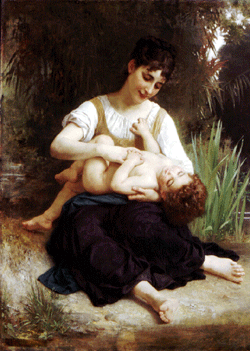 Her hands are seaweed
how they cling
they are like hope
She is treacherous as hope
She is stronger than faith.

i am guilt
i am wrapped up in hope like a pinata
battered, tattered and fading in the sun
Her voice is a Tibetian prayer bowl
how it tolls like a bell
it sets the heavy metronome of my heart
and rings an echo in my head

what can i do?
how could i please Her,
this Fairy-child, this seaborn Girl?
my fingers twist the string
they thread beads as offerings to Her

i make oaths to Her
i lie dormant without Her
i lack audacity
and do not dare to raise Her myself,
convinced i'd make another awful mistake
i am amazed She still loves me at all

She calls to me
and i am powerless to resist
anything She asks of me i will do
Her will is monumental
i am in awe of Her

how could such purity and strength
come from out of my body?
how could i have produced
such a wonderous child?

She believes in me
though i can not believe in myself
She takes my hand and opens Her Poet's mouth
Her words are a song
i keep time in my heart
She says simply,
"I love you, Momma."
and then She laughs.





Submitted on 2005-09-08 13:49:11 Terms of Service / Copyright Rules
Submissions: [ Previous ] [ Next ]
1: >_<
2: I dunno...
3: meh!
4: Pretty cool
5: Wow!


||| Comments |||


73600


Be kind, take a few minutes to review the hard work of others <3
It means a lot to them, as it does to you.