[ Join Free! ]
(No Spam mail)


<<

|

>>
Submission Name: Deadly Disease

--------------------------------------------------------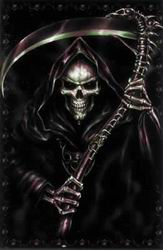 | | |
| --- | --- |
| Class/Type: | Poetry/Misc |
| Total Views: | 1160 |
| Average Vote: | No vote yet. |
| Bytes: | 747 |
Description:
.......It is a disease.........addictive, taking over lives and destroying them.......a disease.....potentially deadly......

Just something I came up with one day......so no need to worry......

**This is temporarily titled...if anyone has any better suggestions, i would greatly appreciate them. Thanks.
Deadly Disease

-------------------------------------------




Aches in my head.
Knot in my throat.
Anger in my blood,
And that blood is trapped...
I want to scream.
I want to feel.
My blood boils,
For the anger I have because of you.
Get out of my head.
Leave me alone.
I want to cry,
But my eyes are already dry.
Too many tears I have cried for you...
And in the darkness of this room,
I contradict myself
Because I do need you.
I need your touch...
The pain I feel because of you.
Memories of your cold embrace...
Thoughts rush...
I can't keep this inside anymore.
Where do I go!?
What do I do!?
Your cold embrace.
Death at my wrists.





Submitted on 2005-09-28 23:51:08 Terms of Service / Copyright Rules
Submissions: [ Previous ] [ Next ]
1: >_<
2: I dunno...
3: meh!
4: Pretty cool
5: Wow!


||| Comments |||


75910


Be kind, take a few minutes to review the hard work of others <3
It means a lot to them, as it does to you.