[ Join Free! ]
(No Spam mail)


<<

|

>>
Submission Name: Conundrum

--------------------------------------------------------
| | |
| --- | --- |
| Author: | Tekin_Kashami |
| ASL Info: | 18/male/Houston, Texas |
| Elite Ratio: | 4.39 - 131/77/23 |
| Words: | 107 |

| | |
| --- | --- |
| Class/Type: | Poetry/Serious |
| Total Views: | 953 |
| Average Vote: | No vote yet. |
| Bytes: | 886 |
Description:
For you, murdering ass hole Saddam Hussein.
Conundrum

-------------------------------------------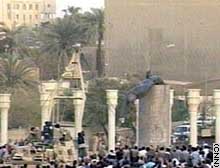 Stains of blood
Immortal
Stains of blood
Eternal
Move on(.org)?
How?
Forget?
Forsake?
Abandon?
Deny?
Stains of blood
Glistening
Stains of blood,
Human blood

He let them die
In anger and greed
He yelled "Insh Allah!"
Evil?
Shadenfruede?
Demonic?
They tell us,
"It's over."
"Let him go."
But why give mercy
When he had none?

Turn the other cheek
And he will pepper it
With cowardice
Murder
Rape
And Jihad

Let him continue
And all will be lost
"Insh Allah"
"Insh Allah"
Let the blood dry
And out liberty
Will vanish

Crush his bones
And we change
Into him and his menace






Submitted on 2005-10-24 20:25:36 Terms of Service / Copyright Rules
Submissions: [ Previous ] [ Next ]
1: >_<
2: I dunno...
3: meh!
4: Pretty cool
5: Wow!


||| Comments |||


78671


Be kind, take a few minutes to review the hard work of others <3
It means a lot to them, as it does to you.