[ Join Free! ]
(No Spam mail)


<<

|

>>
Submission Name: *Memory*

--------------------------------------------------------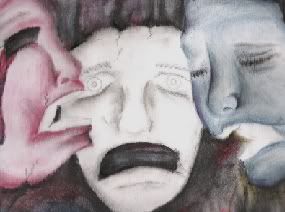 | | |
| --- | --- |
| Author: | cannibal |
| ASL Info: | 18/f/MO usa |
| Elite Ratio: | 3.88 - 47/47/15 |
| Words: | 72 |

| | |
| --- | --- |
| Class/Type: | Poetry/Misc |
| Total Views: | 966 |
| Average Vote: | No vote yet. |
| Bytes: | 427 |
Description:
some memories are good and some are bad, but they all torment your mind in some way.
*Memory*

-------------------------------------------




Mind boils over With the haunts of memories
memories that creep
memories that sleep
trampling me down with each Thought I think

And the sounds of the Words
of the voices of the past
and the creeping of the unknown
stream through this small mind
comes into these opened eyes
shrieking through my mind
leaving me with more sleepless Nights.





Submitted on 2005-12-13 13:13:47 Terms of Service / Copyright Rules
Submissions: [ Previous ] [ Next ]
1: >_<
2: I dunno...
3: meh!
4: Pretty cool
5: Wow!


||| Comments |||


84313


Be kind, take a few minutes to review the hard work of others <3
It means a lot to them, as it does to you.