[ Join Free! ]
(No Spam mail)


<<

|

>>
Submission Name: voice, & art

--------------------------------------------------------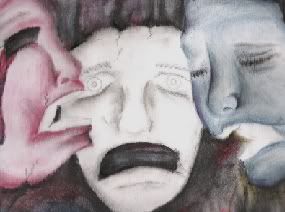 | | |
| --- | --- |
| Author: | cannibal |
| ASL Info: | 18/f/MO usa |
| Elite Ratio: | 3.88 - 47/47/15 |
| Words: | 28 |

| | |
| --- | --- |
| Class/Type: | Poetry/Serious |
| Total Views: | 840 |
| Average Vote: | No vote yet. |
| Bytes: | 155 |
Description:
yes i know it is short...and most likely 'I should add more' but it would take away from the poem if i did. It means a lot to me actually so I don't think i will change it. It is about a dream i have were i am being raped..the pastel drawing adds to it i think. But yeah please don't completly bash my drawing, i know i suck.
voice, & art

-------------------------------------------



Donít wake up from your night mare
Let it burn in your mind forever
Let its fingers burn your voice
Bleed a little for its pleasure.





Submitted on 2005-12-15 02:15:52 Terms of Service / Copyright Rules
Submissions: [ Previous ] [ Next ]
1: >_<
2: I dunno...
3: meh!
4: Pretty cool
5: Wow!


||| Comments |||


84542


Be kind, take a few minutes to review the hard work of others <3
It means a lot to them, as it does to you.