[ Join Free! ]
(No Spam mail)


<<

|

>>
Submission Name: Sweet sleep

--------------------------------------------------------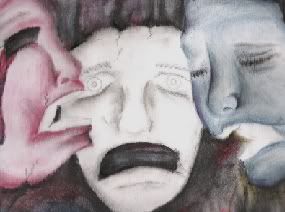 | | |
| --- | --- |
| Author: | cannibal |
| ASL Info: | 18/f/MO usa |
| Elite Ratio: | 3.88 - 47/47/15 |
| Words: | 115 |

| | |
| --- | --- |
| Class/Type: | Poetry/Serious |
| Total Views: | 1105 |
| Average Vote: | No vote yet. |
| Bytes: | 751 |
Description:
yes i know there are a loooot of errors. such as 'donging' but i can't think of the propper word to put in its place so it most likely will stay that way heh.

ok this poem is about the nightmares i have. I had a really bad one once were i almost died while the thing was raping me. I was completly paralyzed, the thing on top of me had my wrists and its hands clutching my throat. Every time i cried for help it tightend its grip on my neck.

the glossy gloom was the thing on top of me. It was sort of like i could see it, it was clowdey, almost clear, it had horns. Meh i remember the more i couldn't breathe the more i saw its eyes. But yeah as i stoped breathing there was a white light coming from my sealing and the beast on me scrame, a sharp bell chimed in my ears and i woke, still seeing the light and hearing the bell.
Sweet sleep

-------------------------------------------




The bell is donging
The dream that scared me
The sound the left me crippled in sleep

One ringing of the church bell
One strain in a mind
Numbing me inside

Breathless
Let your heart wonder to the dark side
Soundless
Let it choke the life out of you again

In sleep body cools
Fingers torment
Numb with glossy gloom
Watching that nothing turn into a tarifing something
Watching it take the shape of my doom.

One bell for the waking
The bell that gave me breath
Dead in sleep
The incubiís breath

Clutches me
Chokes me
Numbs me
Kills me
Sweet sleep





Submitted on 2005-12-16 06:39:07 Terms of Service / Copyright Rules
Submissions: [ Previous ] [ Next ]
1: >_<
2: I dunno...
3: meh!
4: Pretty cool
5: Wow!


||| Comments |||


84647


Be kind, take a few minutes to review the hard work of others <3
It means a lot to them, as it does to you.