[ Join Free! ]
(No Spam mail)


<<

|

>>
Submission Name: thoughts 1

--------------------------------------------------------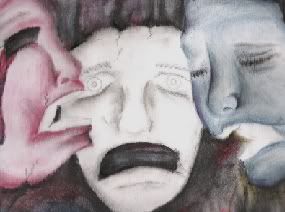 | | |
| --- | --- |
| Author: | cannibal |
| ASL Info: | 18/f/MO usa |
| Elite Ratio: | 3.88 - 47/47/15 |
| Words: | 108 |

| | |
| --- | --- |
| Class/Type: | Random Thoughts/Longing |
| Total Views: | 950 |
| Average Vote: | No vote yet. |
| Bytes: | 513 |
Description:
heh well i know it sucks. This is how i think, most of my journals are filled with thoughts like these. Well tell me what you think, and its not a poem, but tell me if it should be written(structured i guess) like one.
thoughts 1

-------------------------------------------




What do they see when they look at me. A beast with no mind, an idiot. Or do they see beauty and brains. A creative being. When I die will I become a muse. Oh goddess can you make me a muse so I can conger creativity in others. So I can give the power of thought and nudge them in the rite direction. Ah these thoughts are sweet. Let me keep them, let no other thoughts come to mind. But no I will soon look in the mirror and relies the ugly that is at the surface and feel the haunt of those terrible thoughts.





Submitted on 2005-12-16 07:26:17 Terms of Service / Copyright Rules
Submissions: [ Previous ] [ Next ]
1: >_<
2: I dunno...
3: meh!
4: Pretty cool
5: Wow!


||| Comments |||


84650


Be kind, take a few minutes to review the hard work of others <3
It means a lot to them, as it does to you.