[ Join Free! ]
(No Spam mail)


<<

|

>>
Submission Name: Bad moods and a game of chess

--------------------------------------------------------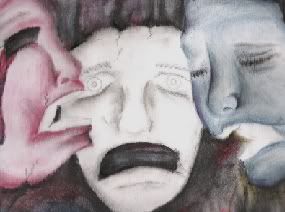 | | |
| --- | --- |
| Author: | cannibal |
| ASL Info: | 18/f/MO usa |
| Elite Ratio: | 3.88 - 47/47/15 |
| Words: | 70 |

| | |
| --- | --- |
| Class/Type: | Poetry/Misc |
| Total Views: | 918 |
| Average Vote: | No vote yet. |
| Bytes: | 437 |
Description:
Well me and my little sister were playing chess, my mother was in a bad mood and pissed everyone off. And our game of chess was left abandond...and i was winning for once damn it!
Bad moods and a game of chess

-------------------------------------------




We got the game out
Pawns moved, queens slaughtered
She woke with her temper raving
Stomping into the room were peace dwelt she complained

Our chess game now dwells in the red room
Lonely pieces abandoned by there owners
Castles laying on there side, the pawns bloody entrails

The pieces that stand erect and ready for a fight
Have seen there last for this round





Submitted on 2005-12-19 01:08:15 Terms of Service / Copyright Rules
Submissions: [ Previous ] [ Next ]
1: >_<
2: I dunno...
3: meh!
4: Pretty cool
5: Wow!


||| Comments |||


84954


Be kind, take a few minutes to review the hard work of others <3
It means a lot to them, as it does to you.