[ Join Free! ]
(No Spam mail)


<<

|

>>
Submission Name: Untitled

--------------------------------------------------------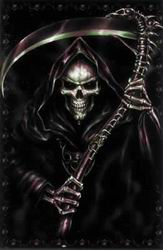 | | |
| --- | --- |
| Class/Type: | Poetry/Misc |
| Total Views: | 1006 |
| Average Vote: | No vote yet. |
| Bytes: | 843 |
Description:
First off, i need a title. Second, this is about how one loves another so much, that everything seems real...but it all turns out to be faked to an extent...and you have felt a pain all along, and knew that the person was the one causing it, and couldn't escape, b/c you would love the person too much...i guess...i don't know if it will make too much sense to you all...but it does to me. so enjoy. if you think of a title, tell me, please.
Untitled

-------------------------------------------




I've got a tear in my eyes.
A hole in my heart.
My breath shortens,
As I long for you.
Hold me.
I want to hear your soft heartbeat.
I want you to hold me.
Catch my tears as they fall.
Save me from you.

The tears pour,
Flowing smoothly across my face.
Falling into my wounds.
I cry for you,
Long for you.
It is you I need,
But denial to yourself,
Leads to the admitance of my pain.
And I no longer dream of what I want,
But realize the nightmare...

My breath shortens,
As I long for you.
Choke me.
Hear my heart shatter.
Hold my cold dead hand,
As your decietful tears fall...
For this is the only way,
I can save myself from you...






Submitted on 2006-01-05 20:14:58 Terms of Service / Copyright Rules
Submissions: [ Previous ] [ Next ]
1: >_<
2: I dunno...
3: meh!
4: Pretty cool
5: Wow!


||| Comments |||


86575


Be kind, take a few minutes to review the hard work of others <3
It means a lot to them, as it does to you.