[ Join Free! ]
(No Spam mail)


<<

|

>>
Submission Name: Beautiful Little Stranger

--------------------------------------------------------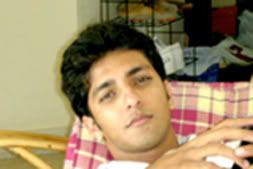 | | |
| --- | --- |
| Author: | anooplokur |
| ASL Info: | 21/male/india |
| Elite Ratio: | 2.76 - 73/106/34 |
| Words: | 71 |

| | |
| --- | --- |
| Class/Type: | Poetry/Passion |
| Total Views: | 945 |
| Average Vote: | No vote yet. |
| Bytes: | 435 |
Description:
well i wrote this to an innocent yet mischevious girl whom i happnd to meet outside my house i wouldn like to tell more bout it since its a personal thing..hope u like it plzzz comment..
Beautiful Little Stranger

-------------------------------------------




As I walked down the steps,
my eyes caught your innocence.
The moisture on your lips
inviting to be kissed.

Your firm suple breast
could not make me rest;
And as you walked towards me
all I wanted was us to be alone.

As I see you bid farewell,
I wish to see you again.
But in my mind you shall remain forever
as my beautiful little stranger.





Submitted on 2006-01-08 05:45:25 Terms of Service / Copyright Rules
Submissions: [ Previous ] [ Next ]
1: >_<
2: I dunno...
3: meh!
4: Pretty cool
5: Wow!


||| Comments |||


86816


Be kind, take a few minutes to review the hard work of others <3
It means a lot to them, as it does to you.